July 7th, 2017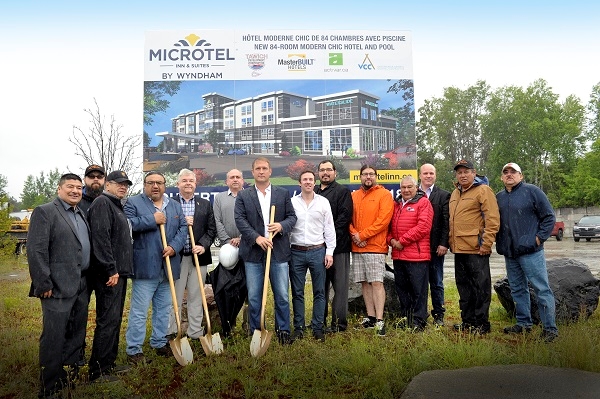 VCC General Contractor
VCC General Contractor is proud to announce its participation in a major project in Val-d'Or. The company was chosen by Activar as the main contractor to carry out the Microtel Inn & Suites by Wyndham.
The first shovelful of land was held last Friday, June 30, to formalize the start of work. Stéphane Poulin, Patrice Beaumelle and Tony Gull were all present, surrounded by Dennis Georgekish, Chief of the Wemindji Cree community, Pierre Corbeil, Mayor of Val-d'Or, Eric Watson, President and Chief Operating Officer of MasterBuilt Hotels Ltd, and Mathieu Mault, of Activar Inc.
Tony Gull asserts at the event that Val-d'Or is an important economic and social hub for the Cree of Eastern James Bay and Southern Hudson Bay. "We are delighted to invest in this hotel project to stimulate the economic development of our communities and build bridges" (TC Media, Simon Dessureault, June 30th, 2017).
On the picture, from left to the right : Frank Atsinya, Bradley Georgekish, Sam Gilpin, Dennis Georgekish, Pierre Corbeil, Patrice Beaunelle, Eric Watson, Mathieu Mault, Tony Gull, Joey Georgekish, John Mark, Stéphane Poulin, Elmer Georgekish, Ernest Tomatuk.